The Encarta ® World English Dictionary defines etiquette as rules of acceptable behavior: the rules and conventions governing correct or polite behavior in society in general or in a specific social or professional group or situation.

When the pledge of allegiance is given everyone salutes.

When the flag is raised, lowered or passes by as in a parade everyone salutes. Uniformed persons give a military salute and veterans not in uniform may give a military salute. Others salute by placing their right hand over their heart and if wearing a cap or hat should remove it and hold it at the left shoulder so that their hand is over their heart.

At the first note of our national anthem known as the Star Spangled Banner everyone salutes until the last note is sung or played.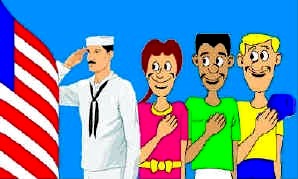 This picture may be found in the www.homeoftheheroes.com website.
Money Makers Flags

Money Makers Flags has been in the flag, flagpole, windsock, and banner business since 1986.
In addition to selling Flags, Flagpoles, and Flagpole kits to individuals, we also supply flag dealers. We have a large variety of flags, flagpoles, banners, pennants and windsocks. We also provide exceptional service in the installation and maintenance of flagpoles.
We also can provide you with your own custom flag. Just send us a picture, and we'll give you a firm quote. We can ship most custom flags - from the simple to very complex- within two weeks.

Business hours
713-461-1153
Monday thru Friday 10:30 am to 5:00 pm
Saturday 10:30 am to 4:00 pm